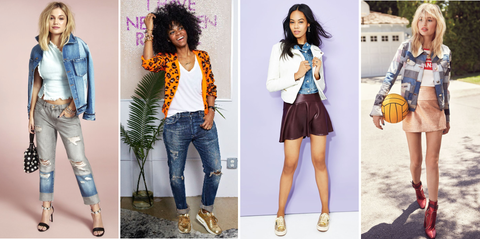 College students face so much difficulty in choosing outfits they should wear to college every day. We all accept the constant need to "dress to impress" and also to wear something that will be unique as well as eye-catchy.
Nobody would want to look boring or backdated while they go to college. It is also a little strenuous to get up early and find the perfect outfit as you can get late for your classes. These outfit ideas will solve the problem of every teenager and college going students to look perfect as they enter college.
Rock the crop top and jeans look:
We all know the basic jeans top look but to transform this casual look into something chic is a real challenge. What you will need is some cool accessories matching with your crop top or pants. This is a kind of outfit we all feel comfortable while walking through the campus. To get the cute look wear some sparkly earrings and a pair of matching boots to go along with the attire. Carry a printed handbag or a sling bag to complete the look.
2. A cool looking T-shirt dress:
T-shirt dresses
are everyone's favorite because it can totally slay the outfit. You can look cool and hot at the same time, wearing it. Style up your dress by wrapping up a
bright colored jacket
around the waist and tie it up in the front. Wear some chic bracelets and earrings that match well with your dress. A pair of sneakers or ankle length boots will be perfect to go with this look.
Formal pants
should always be there in your wardrobe as you need them while attending class seminars or interviews. Statement pants with a nice looking shirt tucked in will give that smart look to impress everyone. Wear formal flats or black heels to get that classy look. A small clutch and a watch on the wrist are the accessories you will need with this formal look.
4. Sweater Dress – A must have for winter wears:
A beautiful sweater dress is a must have to rock the winter look in your college campus. You can wear a
sweater dress
with a pair of leggings or black transparent stockings. Wear a long statement necklace and small chic earrings that match perfectly with your dress. A leather belt is a perfect accessory to be worn with the dress. Wear the belt on top of the dress tied around the waist for a smart look.
Whether you are wearing a cute tank top or a silk camisole, a bomber jacket will brighten up your outfit instantly making it all the more stylish. A pair of jeggings is a perfect fit for this attire. Make a perfect bun that will give you a chic look. You can carry a bright colored bucket bag along with this cool outfit.
6. The casual hot pants and white tee:
This is a stunner look for every girl. Hot pants are a savior for a hot summer day at the campus. Style it up with a comfy white tee and a pair of sneakers or converse that will provide you with a cool look. A pair of sunglass is what you to need to complete the look. Carry a designer backpack that goes well with the attire.
7. Denim – all time favorite:
Whether it's denim jeans or a denim shirt, they are the constants in a girl's wardrobe. To get a stylish yet classy look wear a simple light-colored T-shirt under a denim jacket or a denim shirt along with a pair of denim jeans. Denim shirt dresses are the latest trend amongst the college students. You won't be needing a lot of accessories with the denim look just a casual sling bag and a statement necklace will be enough to make it a badass outfit.
KINDLY SHARE THIS STORY USING ANY OF THE SHARE BUTTON BELOW ⬇